Dinner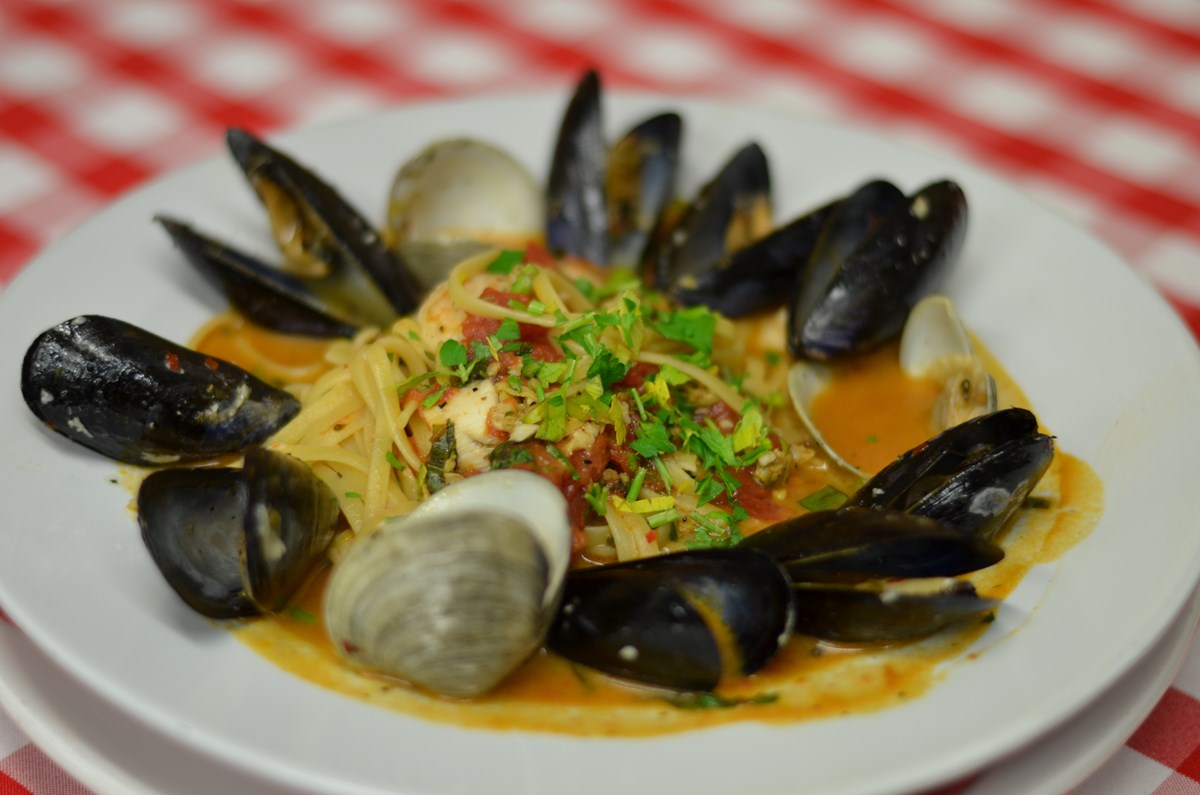 ANTIPASTI
Calamari Fritti
fried calamari, sautéed with peppers, onions, garlic, jalapenos and banana peppers, served with marinara.
Cozze con Pomodorini
PEI mussels, garlic, white wine, and your choice of EVOO and banana peppers or pomodorini and basil.
Melanzanne alla Parmigiana
fried eggplant, layered with marinara, basil and cheeses, baked gratineed with cheese.
Zuppa del Giorno
ask your server about our daily soup.
INSALATA
Insalata Caprese
tomatoes, mozzarella, basil, arugula, red onions, with balsamic and oil. Gluten Free Vegetarian
Insalata Verdure
organic greens, carrots, cucumbers, onions and tomatoes with a red wine vinaigrette. Gluten Free Vegetarian
Insalata Cesare
whole leaf romaine, caesar dressing, parmesan cheese, lemon and croutons. Add while anchovies $1.
Insalata Pomodoro e Feta
arugula, tomatoes, onions, cucumbers, olives, feta and greek dressing. Gluten Free Vegetarian
Insalata Italiano
greens, cucumbers, tomatoes, green peppers, salami, provolone, olives, pepperoncini and marinated onions, dressed with oil and vinegar. Gluten Free
PIZZA
Pizza Margherita
Marinara, Mozzarella, Tomatoes, Parmesan, & Basil Vegetarian
Pizza ai Funghi
Mushroom sauce, Scallions, Parmesan, & Asiago Vegetarian
Pizza alla Fiorentina
Cream, Spinach, Parmesan, & Asiago Vegetarian
Pizza con Salsiccia e Rapini
Sausage, Rapini, Garlic, EVOO, Parmesan, & Asiago
Pizza con Prosciutto e Rucola
Arugula, caramelized Onions, EVOO, Prosciutto, Parmesan, & Asiago
Pizza al Vongole
Clams, EVOO, Garlic, Oregano, Chili, Parmesan & Asiago
CONTORNI
Salmone
Pan roast 6 oz Salmon Fillet with Lemon & EVOO Gluten Free
Petto di Pollo
Garlic & Herb marinated & grilled Chicken Breast Gluten Free
Polpette
My Dad's secret recipe Meatballs, made with Veal, Beef, & Pork, simmered in Marinara
Braciole
My Dad's recipe for braised Beef rolled & filled with Salami, Provolone, Onions, & Egg braised in Marinara Gluten Free
Salsiccia
hot or sweet Sausage simmered in Marinara Gluten Free
Rapini Broccoli
Italian Broccoli sautéed with EVOO, Garlic, & Chili Gluten Free Vegetarian
Risotto
Arborio rice, finished with Cream & Parmesan cheese Gluten Free Vegetarian
Patate Fritte
house cut Parmesan Garlic Fries served with Balsamic Ketchup Gluten Free Vegetarian
CUCINA DI BISTROT
Burger di Manzo
Grilled 8 oz ground local Beef from Blackmore Farm (Georgia, VT) Burger, Provolone Cheese, sautéed Onions, Pancetta Jam, Lettuce & Tomato on a bun, served with Parmesan Fries, & Balsamic Ketchup
Petto di Pollo Gyro
Grilled Pita, filled with grilled Chicken Breast, Romaine, Tomatoes, Onions, Feta & Tzatziki, served with a Greek side Salad
Insalata Cobb
Iceberg Lettuce, tossed with our creamy Italian, grilled Chicken, crispy Pancetta, Gorgonzola, Tomatoes, Red Onions, Avocado, & hard boiled Egg Gluten Free
PASTA
Spaghetti con Pomodorini
our hand crushed Tomato & Basil Vegetarian
Spaghetti alla Puttanesca
Pomodorini, Capers, Olives, Chili Pepper, Garlic, Basil, & EVOO Vegetarian
Spaghetti alla Romana
Pancetta, Garlic, caramelized Onions, black Pepper, EVOO, & Parmesan cheese
Fettuccini alla Bolognese
Egg Fettuccini tossed with our own braised Meat & Vegetable sauce
Fettuccini alla Villa Tragara
Egg Fettuccini tossed in a Brandy creamy Tomato Sauce, finished with Crabmeat & Broccoli
Paglia e Fieno
Spinach & Egg Fettuccini, Peas, Prosciutto, Pignoli, Mushrooms, Garlic, & Cream
Orecchiette con Salsiccia
Rapini, hot Sausage, Grape Tomatoes, Garlic, Spinach, and Ricotta Salata
Linguine alle Vongole
Clams, Wine, Garlic, and your choice of EVOO or Marinara sauce.
Linguine alle Pescatore
Mussels, Clams, Shrimp, Scallops, Calamari, White Wine, & Pomodorini
Gnocchi all Caprese
Gnocchi sautéed in our Pomodorini sauce with Grapes Tomatoes, Basil, & fresh Mozzarella Vegetarian
Ravioli con Formaggio
Cheese Ravioli, sautéed in Marinara with fresh Basil, topped with fresh Mozzarella Vegetarian
Agnolotti di Zucca
hand filled pasta with roast Squash & Cheese, sauteed in Sage Butter with Pepitas & Cranberry Compote Vegetarian
Risotto ai Funghi
Porcini & White Mushrooms sauteed with Arborio Rice simmered with Vegetable Broth, Parmesan, Cream, & Butter, finished with Garlic Mascarpone Gluten Free Vegetarian
Cannelloni al Forno
Pasta sheets, rolled & filled with Four Cheeses, baked with Marinara, gratineed with Cheese, served with Haricot Verts Vegetarian
SECONDI
La Festa di Pulcinella
A sampler platter of our Veal Parmigiana, Eggplant Parmigiana, baked Cannelloni, Meatball, Sausage, covered with Dad's Special Marinara, gratineed with Provolone, & served with Haricot Verts
Alla Parmigiana
breaded; Veal or Chicken, with Pomodorini, gratineed with Parmesan & Mozzarella cheese. Served with fresh Vegetables & Spaghetti Marinara